Hort Innovation looks to fast-track commercialisation of Australian-bred varieties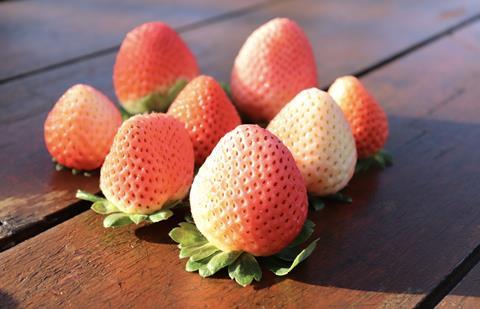 A commercial partner is being sought for two Australian-bred strawberry varieties.
Dubbed Pink and White, the novelty varieties were unveiled at the BerryQuest International event on the Gold Coast today (26 July).
True to its name, the White offering has a distinct white interior. On the outside, it is white with a pale pink blush and red seeds.
The Pink strawberry has a peach pink exterior and a white interior.
The new varieties have been developed through a partnership between Horticulture Innovation Australia (Hort Innovation) and Queensland's Department of Agriculture and Fisheries (DAF QLD).
Hort Innovation chief executive Brett Fifield said both offerings would appeal to consumers, based on their unique appearance and intense strawberry aroma.
"Pink and White strawberries are like nothing else on Aussie retail shelves," Fifield explained. "They're exceptional, and so they should be. They are the culmination of years of research, field trials, consumer preference testing and industry engagement."
Both varieties have been specially bred for the Australian environment.
The search for a commercial partner has begun, with Hort Innovation accepting expressions of interest until late September.
DAF QLD project lead, Jodi Neal, said her team was at the forefront of varietal innovation in the strawberry category, thanks to its partnership with Hort Innovation, a grower-owned research and development corporation.
"Over the past 10 years, we have developed 16 strawberry varieties that are bespoke to our Australian growing conditions and consumer palettes," Neal said.
"It is great to see grower adoption of these varieties has grown over the past five years. In 2021, 45 per cent of the national planting was attributable to varieties developed by the programme led by DAF QLD."
BerryQuest host and Berries Australia executive director, Rachel Mackenzie, said new varieties were the way of the future for the Australian strawberry industry.
"It's really exciting to see these new varieties reach this stage in the commercialisation process," she said. "This is growers' levy funding coming to life before our eyes."