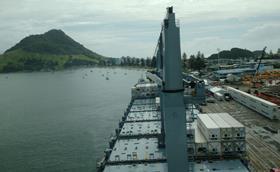 The Port of Tauranga has reported 15 per cent growth in volume and net profit in the first quarter of 2018, setting the New Zealand port up for a 10 per cent profit increase for the financial year.
"Based on the first quarter's performance, and notwithstanding any significant market changes, we expect full year earnings to be between NZ$88m and NZ$92m," said Port of Tauranga chairman David Pilkington. Last year's after tax earnings reached NZ$83.4m for the year ending 30 June 2017.
Container numbers grew 26 per cent in the three months to 30 September 2017, due largely to a significant increase in transhipment.
"The trend to larger ships, and those ships making Tauranga their only Australasian call, has led to a significant increase in transhipment," Pilkington explained. "Transhipment of cargo from other New Zealand ports to Tauranga has quadrupled in the past year."