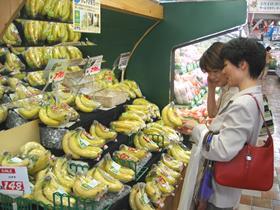 Japan imported a total 154,000 tonnes of fresh fruit during August 2021, representing a 17 per cent increase in volume compared to the same period last year.
Tokyo Seika's president, Jack Moriya, said the change was "a big increase" in comparison to previous years, but highlighted there remained challenges.
"One of the biggest issues for August, which hampered imports, involved logistical factors with the lack of available reefer containers and the increase in ocean freight rates," Moriya explained.
The Philippines recovered its import share of bananas, with an increase of 2.2 per cent, while Mexico's share saw a drop of 2.3 per cent.
An estimated 13,000 tonnes of New Zealand grown kiwifruit was imported by Japan, representing an increase of 90 per cent year-on-year (YOY).
"This is first time more than 10,000 tonnes of New Zealand kiwifruit has been imported during the month of August," Moriya noted.
"The cumulative quantity of New Zealand kiwifruit for the past eight months was 85,060 tonnes, exceeding the same period a year ago by 6 per cent."
Imports of avocados (down 5 per cent), lemons (down 31 per cent), and table grapes (down 8 per cent) all trended down due to freight availability. Meanwhile, some citrus categories grew sharply.
The quantity of oranges imported during August 2021 was 9,211 tonnes, a 25 per cent increase YOY. Australia was the leading origin for the fruit, accounting for 8,917 tonnes, or 96.9 per cent, of the total volume.
Finally, 15,924 tonnes of pineapples were imported by Japan, an increase of 16 per cent compared to August 2020, primarily from the Philippines as per usual.
Taiwanese pineapples continue to fight to gain a foothold in the Japanese market, with 410 tonnes of fruit imported, setting a new record.