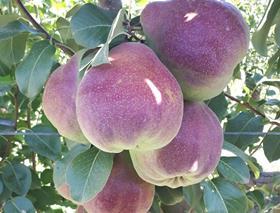 Interest in the Australian-bred Rico pear has continued to grow in domestic and export markets as the branded variety enters its third season of commercial production.
Master licensee Apple Apple and Pear Australia Limited (Apal) said favourable growing conditions have the variety ANP 0131 well placed ahead of 2021.
Andrew Mandemaker, head of group quality and innovation of Apal, said there had been a focus on export markets for the pear known for its bright red blush.
Over the past two years volumes of had been shipped to Thailand, New Zeland and Indonesia and the Pacific Islands. In 2021 exports to Thailand are poised for growth while Malaysia, Singapore and Hong Kong are set to be in for their first taste of Rico pears.
"Building markets across Asia and New Zealand has been a focus for the brand this season, with a view to maximising returns for growers in the longer term," said Mandemaker.
"A bigger crop in 2021 should give us the capacity to really get behind the brand this season, both in the export markets, but also here in Australia."
Cameron Carter, Sales Manager of Seeka Australia, also said a positive year was on the cards for the ANP 0131 variety, to which Ricó lends its name.
"Growing conditions haven't been too bad this year, and we did get a good fruit set," Carter said.
"The top-worked trees are a year older of course and looking more balanced. We need to get the fruit to have at least some blush, and so far, all but the most shaded fruit has good colour."
With Covid-19 impacting supply chains across the world, increased interest from Asia has come at a welcome time, according to Andrew Plunkett, general manager of Plunkett Orchards.
"Seeing keen interest from importers in Asia this year has been great," said Plunkett. "With the fruit holding up very well in storage this season, even a delayed shipment to Asia has held up really well."