Less than 100m cartons of California grapes are likely to be packed this season but signs point to a high quality crop with good sizing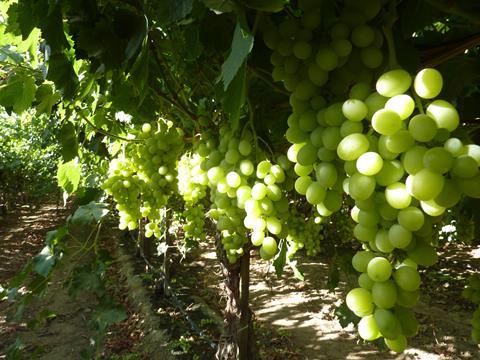 As the 2022 North American table grape season transitioned to the San Joaquin Valley from the deserts of Coachella and Mexico in early July, California growers were wondering how the remainder of the season would play out.
Foremost among their questions had to be whether their fruit could return high enough prices to be profitable, or at least break even, as inputs for fertiliser, irrigation, labour, energy, food safety and transportation had already been spiralling upward in cost over the last several years, only to be pushed to new heights by the Covid-19 pandemic and the Russia-Ukraine war. Could the market absorb potentially record FOB prices for table grapes, or would it simply kill demand?
A longer-run question for the California table grape industry concerns the viability of export markets. Growers have traditionally counted on healthy demand from overseas customers, particularly in Asia, to keep the domestic market from becoming oversupplied. But with the massive disruption of maritime shipping from Covid, the industry currently can't count on whether its fruit will be timely delivered to their importers or be stranded short of the intended destination due to a shipping diversion. The fact that seafreight costs have doubled over the last two seasons only adds to grower aggravation.
All of these obstacles have materialised as California's export window continues to shrink on the front end of the season. Increasing production of decent quality Asian table grapes, as well as more late-season volumes from sources like Peru, have made for a more competitive global market.
Perhaps fortunately, California table grape production is forecast at just 95m cartons (8.6kg) in 2022, which, if accurate, would fall below the 100m-carton level for the second season running. As recently as the 2016 season, production topped 115m cartons, which would probably spell disaster for the industry under the current conditions. Another positive is that fruit quality in the San Joaquin appears to be exceptional this season.
"San Joaquin's quality is looking quite good at the moment," said John Pandol of Pandol Bros in late June. "We're seeing normal berry sizing with minimal disease pressures and volume should be on the lighter side again this year."
David Nelley, chief commercial officer of The Fresh Connection, agreed.
"We feel generally positive about fruit quality; sizing appears to be on a par with previous seasons," Nelley explained. "But we are hearing (seasonal) production numbers of more like 83m to 85m cartons at the moment. It's still a little bit early to know for sure, however."
In the meantime, the California industry continues to transition toward big-tasting, high-yielding varietals to defray overheads and spur stagnant demand. Growers are finding consumers increasingly eager for new varieties like Cotton Candy, Autumncrisp, Allison, Sweet Globe and Candy Snaps but less so for the more traditional Flame Seedless, Superior Seedless and Summer Royal.
Another positive for California growers is there will be minimal overlap with production from Mexico this year. Expectations had been for Mexican fruit to clog North American supply channels well into the summer, with a record crop of 25m cartons initially forecast. As Mexico's season progressed, however, those worries soon subsided.
"Labour shortages and some quality issues may have played a role in keeping Mexico's volume down this year," said Pandol. "By the third week of July, production should be fully transitioned to the central valley."