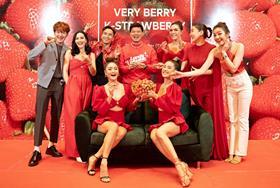 Korea's ministry of agriculture, food and rural affairs (MAFRA) has announced the country's table grape and strawberry exports reached record levels in 2021.
The Korean government has identified the two fruits as key export products and provided its policy support to promote them. these efforts have paid off with the combined value of strawberry and grape exports reaching US$103.1m in 2021.
Exports of strawberries rose from 4,823 tonnes worth US$53.7m in 2020 to 4,821 tonnes worth US$64.5m in 2021, an increase in value of 20 per cent. Meanwhile, Korea's table grape exports rose from 2,108 tonnes worth US$31.2m in 2020 to 2,315 tonnes worth US$38.7m in 2021.
MAFRA has aided both industries and provided support for the overall process from production to storage, distribution, marketing, buyer linkage and sales to increase their export. it also promoted the fruits as premium items at overseas markets.
In Singapore, a new dessert menu with Korean strawberries was introduced by a famous chef at a luxurious hotel. In Vietnam and Thailand, as local people are highly interested in Korean culture, marketing activities mainly took place at premium stores, contributing to the premium image of Korean strawberries.
The Ministry also collaborated with Korean Air to run exclusive flights for the export of strawberries during the export season in response to logistics disruption caused by Covid-19.
As for grapes, producers voluntarily set quality and safety standards to improve the quality. the government provided support for storage facilities and techniques to extend the length of the export season
The Shine Muscat variety has become increasingly popular in among foreign consumers, particularly at the premium end of the market with the grape sold at high-end hotels and large department stores.
"It is very meaningful that the export of strawberries and grapes totalled US$100m, as such a successful result was achieved through continuous efforts to boost export of high-quality agricultural products by sharing best practices of cultivation technologies among farms," said Jeon Han-yeong, director general of MAFRA's food industry policy bureau.
"This year, we will try to strengthen capabilities of farms to take the lead in upholding agricultural products' exports while maintaining the premium image of Korean agricultural products."