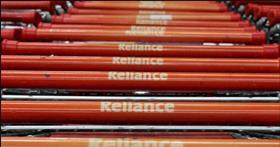 Reliance Industries' retail arm has announced it will roll out 7-Eleven convenience stores in India, just days after Future Retail ended a similar deal with the US chain.
According to a report published by Reuters, Reliance Retail Ventures (RRVL) said its first 7-Eleven round-the-clock convenience store will open in a neighbourhood in India's financial capital of Mumbai on 9 October.
The deal marks the latest by the Reliance Group, led by billionaire Mukesh Ambani, to rapidly expand its retail and e-commerce businesses to better compete with Amazon, as well as Walmart's Flipkart, in India's nearly trillion-dollar retail market.
The 7-Eleven stores will aim to provide Indian customers with greater convenience, offering a range of beverages, snacks and delicacies specifically curated to appeal to local tastes, along with refill of daily essentials, while focusing on affordability and hygiene.
In a company announcement, Future Retail said it had mutually terminated an agreement with 7-Eleven as the companies were not able to meet targets of opening stores and paying franchisee fees.
Reliance Retail director, Isha Ambani, said the company prides itself on offering the best to its customers. "We are proud to bring 7-Eleven, the globally trusted convenience store, to India. 7-Eleven is among the most iconic global brands in the convenience retail landscape. The new pathways we build together with SEI will offer Indian customers greater convenience and choices within their own neighbourhoods," she said.
Meanwhile, 7-Eleven president and chief executive Joe DePinto said it was an ideal time for it to enter the country. "India is the second largest country in the world and has one of the fastest-growing economies.
"Our strategic relationship with Reliance Retail will bring 7-Eleven's brand of convenient products and services to millions of Indian consumers starting in the city of Mumbai," he added.
Reliance's shares rose 1.22 per cent on the back of the announcement.