California Table Grape Commission unveils export marketing plans for 2023
Retail promotions will feature prominently in the California Table Grape Commission's 2023 export marketing campaign.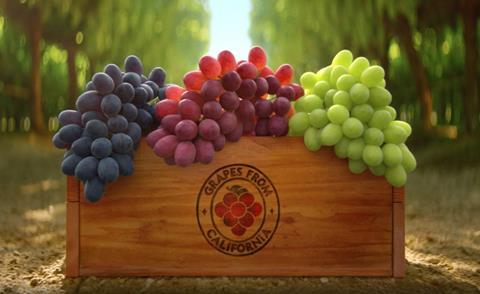 The campaign will focus on 16 target markets. These markets represented 94.4 per cent of the industry's export volume in 2022 (June through December).
Exports to El Salvador, Hong Kong, Indonesia, Mexico, New Zealand, and Vietnam increased in both volume and value in 2022, compared to 2021.
"In spite of labour and shipping challenges, and inflation and the value of the dollar, California table grapes still found success in export markets last season," said California Table Grape Commission president Kathleen Nave.
"In 2023 the commission is determined to capitalise on that success and plans to expand market share of California table grapes in the target export markets."
Nave said retail activations would form the foundation of the 2023 campaign, including a variety of retailer incentives.
Digital retail promotions are also planned throughout the target export markets, while wholesale promotions are planned in select markets to reach smaller retail outlets.
Shopper app and social media advertising is planned in all markets, while influencers will be engaged in select markets.
"While there still may be challenges ahead for global exports, the 2023 export marketing campaign will work to drive demand for California table grapes around the world," said Nave.