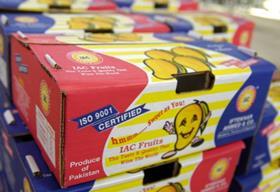 Leading Pakistani grower-packer-exporterIftekhar Ahmed & Company (IAC) has announced it will enter the retail market with a new fresh produce retail chain called Go 4 Fresh.
The stores will stock local and imported fruits and vegetables, smoothies, fresh milk, synthetic ingredient-free ice cream, fresh fruit juices and dried fruits.
This announcement was accompanied by the launch of a new brand also called "Go 4 Fresh" which will be available in both domestic and foreign markets. IAC plans to launch a range of fresh and value-added products under this brand, which will be exported to IAC's established foreign markets spread over 30 countries.
The first Go 4 Fresh store is located in Karachi and will be formally opened on 21 December. IAC plans to open between eight and ten more stores across the city and then expand across the rest of the country.
Following this, the company will look at opening stores in the Middle East and the UK.
Waheed Ahmed, director, marketing of IAC, said these stores will benefit both consumers and growers in Pakistan by helping the local market meet the changing lifestyle requirements of the people of Pakistan.
"The company believes in giving back and in re-investing its earnings in the society to create greater employment," Ahmed said.
"This is the right time to invest in Pakistan as the country needs revenue and employment to get out of its economic downward spiral."