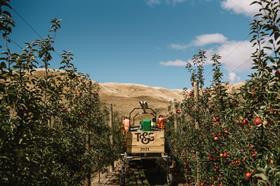 T&G Global has underlined a number of "significant challenges" when reporting its financial results for the 2021 calendar year (12 months ending 31 December 2021).
Revenue, operating profit and net profit (after tax) all declined at the New Zealand-headquartered group in 2021, compared to figures from 2020.
Gareth Edgecombe, chief executive of T&G Global, said the ongoing implications of Covid-19, coupled with severe weather events, impacted the financial results.
"2021 brought about some real challenges that have had a detrimental effect on our bottom line," Edgecombe said.
"The impacts of hail on our Nelson-grown fruit and challenges with border closures and labour shortages due to Covid-19, reduced both the sizing and volumes of our apples.
"Further, global supply chain disruptions, including fewer ships visiting Aotearoa New Zealand and container shortages, affected our ability to import tropical produce into Aotearoa New Zealand and export apples to customers around the world."
"Our T&G whānauworked tirelessly to address these challenges, chartering ships and partnering with primary sector exporters to get our fresh produce to export markets. However, despite our best efforts, our market access was constrained, with some produce arriving late and therefore missing sales opportunities."
The group posted an operating profit of NZ$16.9m in 2021, down from NZ$32.4m in 2020.
"This was largely due to the impact of the hail, labour shortages, increased shipping costs and shipping delays, as well as the influence COVID-19 had on market and customer access – both in Aotearoa New Zealand and around the world," according to a media release from T&G Global. "This was offset to some extent by increased Envy licensing revenue."
Revenue remained largely constant, down from A$1.41bn in 2020 to NZ$1.37bn in 2021.
Net profit (after tax) decreased by 18 per cent year-on-year to NZ$13.6m in 2021.
T&G Global's total equity grew 10.4 per cent, from NZ$519.8m in 2020 to NZ$573.6m in 2021, with the company pointing to its ability to unlock underlying value from its strategic capital recycling programme for this result.
Benedikt Mangold, chair of T&G Global, said although the financial results were behind expectations, the company is managing well in the current environment and its underlying fundamentals remain strong.
"While 2021 has had its challenges, it's important we remain resilient in these volatile and uncertain times," said Benedikt.
"Consumers around the world are increasingly seeking out trusted, high quality, sustainably-produced fresh produce, and under Gareth's leadership, T&G has a clear and deliberate strategy to realise this future growth.
"This year, our team kept each other safe, kept fruit and vegetables flowing to customers and consumers, and remained absolutely focused on delivering on our strategy. With a talented, high-performing team, we look forward to a stronger and improved 2022."