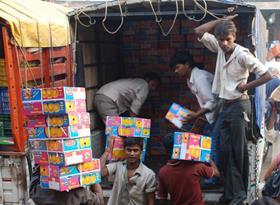 India's Punjab government has made its clearest statement yet in the fight against food adulteration. Global Punjab TV reports the government plans to install ripening rooms in all fruit markets across the state, in a move it hopes will halt the rampant use of calcium carbonate as a ripening agent.
Secretary to the government of Punjab, Vini Mahajan, said installing artificial ripening chambers at fruit mandis in the state was a government priority.
She directed the concerned departments to develop all the required facilities besides educating and sensitising the concerned persons involved in the sale and purchase of fruits about such facilities.
Mahajan was chairing a state-level meeting of the advisory committee on safe food and healthy diets when she suggested Food and Drugs Administration (FDA) officers take help from the police department in catching people involved in spurious activities of food adulteration.
Principal secretary, health and family welfare, Hussan Lal, suggested using inputs from the Intelligence Wing to catch hold of the food adulterators.