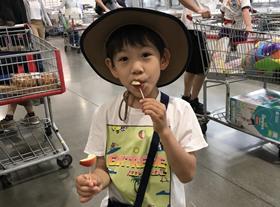 Rockit is gaining a foothold in Japan, with a container of the miniature apple selling out in the space of a week.
The consignment of new-season New Zealand-grown fruit was sold through Costco Wholesale Japan.
The retailer's cash and carry format, along with its national reach, has been pivotal to market development for Rockit in Japan, according to Rockit Global's general manager global sales, Mark Pay.
"To attain these results in only a week is testament to the strong partnership we enjoy with Costco in Japan," Pay said.
"Partnering with Costco has been an ideal distribution strategy for Rockit, due to its national reach. It is a unique retailer – not just in Japan but globally – because although it offers products in a bulk format for its members, it also carefully selects a number of premium brands to carry, such as Rockit apples."
Rockit launched in the Japanese market in 2018 and started selling in Costco in 2019.
When the Covid-19 pandemic hit last year, Rockit Global and Costco moved quickly to amend marketing and promotional activities to fit with what was possible during a challenging time.
"This resulted in a 77 per cent increase [in sales to Japan] from 2019 to 2020, and this year we're already seeing a further 51 per cent increase year-on-year," Pay said.
To unlock further value in Japan, Rockit is working on improved packaging formats that will better suit the market and its different distribution channels.
"We're working directly with Costco to design a new pack that fits more neatly within its business format," Pay added.
"Additionally, with the convenience channel in Japan being one of the most advanced in the world, our new two-piece tube has been specifically designed to meet the needs of these stores and their consumers."
Refreshed Rockit branding – which launched globally on 1 July – rolls out digitally in Japan over the coming weeks. This includes a localised website and social content.
Pay said the Rockit Global marketing team kept Japan front of mind when developing new brand content,creating assets that would resonate with its consumers in this market.
"We're committed to this market and plan to continue developing our key relationships more fully, as we continue along Rockit's steep growth trajectory."