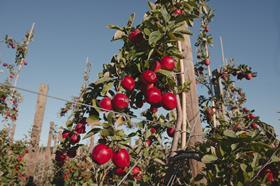 New season Rockit apples have landed in China, with fruit set to hit retail shelves on Monday (12 April).
While Rockit is produced in ten countries, it's the arrival of New Zealand-grown fruit that signals the start of a new campaign in China each year.
New Zealand growers have enjoyed excellent growing conditions this year, according to Julian Smith, general manager of marketing at Rockit Global – which grows, packs and markets the miniature apple.
With more trees reaching maturity, Smith said record volumes are expected this season, helping to meet China's increasing demand for the offering.
"The quality of our 2021 fruit is outstanding," said Smith. "Rockit apples are always delicious, but we are extra excited about this year's colour and flavour profile. The apples are especially sweet, withsmooth, unblemished skin.We're looking forward to seeing how our Chinese customers enjoy them."
Rockit launched in China in 2014. Smith said the snacking apple has found favour with Chinese families, students and professionals, who value both the taste and health benefits of the offering.
The convenience of the 100 per cent recyclable and resealable tubes Rockit apples are sold in has also been a draw card.
"Our customers love being able to contribute to good health by boosting their antioxidant intake, simply by snacking on a Rockit apple," Smith said.
The 2021 season signals a new direction for Rockit, with a refreshed brand identity and slogan expected to make its first appearance in the middle of the year.
The tagline 'Rockit every day' has been created to highlight the vitality of the brand, with a view to "inspiring others to take on the world, one bite at a time," according to a release from Rockit Global.
The company will open a new state-of-the-art global headquarters, packhouse and coolstore in Hastings, New Zealand, later this year. The facility will incorporate AI technology to ensure apples reach consumers around the world as quickly as possible, and in optimal condition.
"It's a delight to launch our season with such great news, especially following the challenges the world faced in 2020," said Smith. "This year's fruit really is the delicious result of hard work, positivity, two decades of careful breeding, and our own cutting-edge innovation."