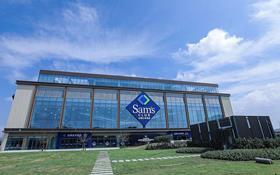 Sam's Club, Walmart's membership-based warehouse format, has officially opened its first flagship store in China, the largest of its kind in the world.
Located in Shanghai, it is the 34th Sam's Club store in China and occupies an area of around 70,000m2.
Andrew Miles, president of Sam's Club China, said the business had been putting members first in China for 25 years.
"We have cultivated a team the understands our products, understands out members and loves to service them," said Miles.
Miles said Sam's Club's strong global sourcing resources allowed the retailer to deliver new and high-quality products to its members.
The flagship store features morethan 4,000 different products, many of which are exclusive to Sam's Club China with an emphasis on high-quality, fresh, safe, and nutritious products. There will also be direct imports from more than 30 countries and regions around the world.
This store is the latest milestone in the retailer's goal of having 40-45 Sam's Club stores opened or under construction in China by the end of 2022.