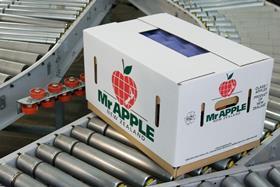 A strong performance from leading New Zealand apple grower-packer-exporter Mr Apple has propelled parent company Scales Corporation to a strong financial performance over the first half of 2019.
Scales posted a net profit of NZ$121.8m over the six months to 30 June 2019 (H1 2019), a record result for the H1 period and significantly up on the NZ$34.8m posted in H1 2018. The group said the result includes profits and fair value gains, as a result of divestment activity, of NZ$93.2m.
Total revenue from the group's horticulture segment, spearheaded by the Mr Apple business, came in at NZ$159.5m in H1 2019, up on NZ$143.8m in H1 2018. Earnings before interest, tax, depreciation and amortization (EBITDA) for the horticultural segment was NZ$41.3m in H1 2019, the same rounded figure as H1 2018.
The results were driven by an uplift in Mr Apple's expected export volumes. The company sent a total of 3.8m TCEs(​Tray Carton Equivalent) over H1 2019, significantly ahead of the 3.6m TCEs initially forecast.
The company noted a 10 per cent increase in 'premium variety' volumes in H1 2019 (compared with H1 2018), including inaugural commercial sales of the branded Posy and Dazzle offerings.
"The result is impressive given the more difficult growing conditions that resulted in smaller apples," said Scales Corporation managing director Andy Borland.
"Our performance in the Asia and Near Markets continue to validate our strategy towards premium varieties targeted to those markets. Volumes to those markets, and particularly to China, are notably up on last year and prices have performed well.
"The strong performance from these markets is partly offset by a slower start to the Europe market, which continues to be affected by a larger than normal European crop – however the outlook for the forthcoming European crop suggests this impact will not extend beyond the current season."
Borland said total export volumes for the full 2019 season are likely to be consistent with the record 2018 crop, notwithstanding significant orchard redevelopment in the intervening period. Mr Apple is redeveloping over 80ha of apple orchards during the 2019 and 2020 winters.
Total revenue from Scales' food ingredients division came in at NZ$80.7m for H1 2019, up on NZ$45.5m in H1 2018, while EBITDA was at NZ$5.1m. Borland described this as a "solid result" given the division integrated a number of new structures, with a pleasing first six months of trading from Shelby and one-off profits relating to the establishment of Meateor NZ, a petfood joint venture.
EBITDA from the group's logistics division came in at NZ$3.1m in H1 2019. "Logistics traded slightly ahead of H1 2018, benefiting from additional space and resource and we anticipate full year results for this business to be in line with expectations," Borland explained.
Tim Goodacre, chairman of Scales Corporation, said the group was pleased to reaffirm its previously announced full year underlying net profit guidance of between NZ$32m and NZ$37m, implying an EBITDA of between NZ$49m and NZ$55m on a like-for-like basis.
"We are proud of the efforts of the Scales team and believe that we can continue to deliver on our strategy to diversify our operating units to ensure a more sustainable and robust earnings profile," Goodacre explained.