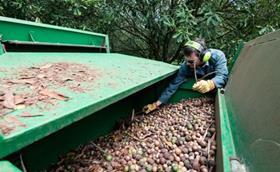 A team of Australian researchers is breeding Macadamia nuts with thinner shells in an attempt to provide extra value to growers.
The national macadamia breeding and evaluation programme, funded by Hort Innovation, the University of Queensland and the Queensland government, is working on developing thinner shells, bigger kernels and tougher husks for resisting pests.
The University of Queensland's Bruce Topp is leading the programme and said these attributes would add boost Australia's A$270m (US$209m) macadamia industry.
"Two-thirds of every harvested kilogram is in the weight of the macadamias' extremely tough shells. That's a lot of wasted productivity," Topp said.
"The goal for many growers is to produce less shell and more kernel from each nut but with the shell still tough enough to resist pests.
"Building on decades of macadamia research, we are trialing sophisticated genomic technologies in the field, aiming to boost Australian macadamia growers' productivity and profitability."
Hort Innovatoin's Vino Rajandran said the macadamia industry was currently using cultivars more than 60 years old and just a few generations from the wild.
"As a comparison, almonds have been cultivated for millennia. Based on other horticultural tree crops, we estimate that the macadamia is only yielding around 30 per cent of its potential," Rajandran said.
"We are identifying molecular markers for key growth and production traits in diverse, wild macadamia samples. We hope this research will make Australian-bred macadamia cultivars the commercial, global varieties of choice."