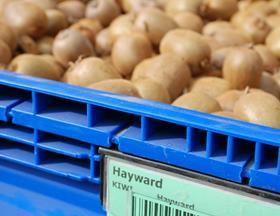 Australasian fresh produce company Seeka has defied challenging growing conditions to post a net profit of NZ$6.9m (US$4.3m) over the year ending 31 December 2019, up 3 per cent on the NZ$6.7m (US$4.2m) it reportedin 2018.
The company's revenue grew to NZ$236.9m (US$149.6m), up 16 per cent from NZ$203.7m (US$128.2m) in 2018, while its gross profit came in at NZ$34.5m (US$21.8m), an increase of 4 per cent year-on-year.
'Seeka's financial performance was impacted by the early 2019's long dry summer which lowered Hayward kiwifruit yields in both Australia and New Zealand," said Seeka chief executive Michael Franks. "Hayward volumes were well down on forecast and prior year yields, and negatively impacted Seeka's financial results.
"Offsetting this, Seeka expanded our core business with the purchase of Aongatete, delivered cost efficiencies, made good gains on the sale of Northland orchard assets, and delivered significant improvements in our retail services business. Operationally, the performance and returns to supplying growers were excellent."
In its core New Zealand kiwifruit business, Seeka packed 33.5m tray equivalents, up from 31.4m a year earlier.
Seeka also continued to invest in core infrastructure to boost its post-harvest capacity. Its NZ$21.4m (US$13.5m) Oakside packhouse and coolstore project was completed in 2019, with phase two development of a modern packhouse and coolstore complex in Kerikeri currently underway.
The company expects lower post-harvest capital expenditure through 2020 and 2021, while it continues to explore the sale of orchard assets in both New Zealand and Australia to repay debt.
"Seeka is focused on consolidating operations following the acquisition of the Northland and Aongatete assets, including selling orchard assets to repay debt while securing supply to our core kiwifruit business," Franks said.
"We are also investigating the sell down and lease back of the Australian kiwifruit orchards which would release funds for debt reduction and potential expansion, as we continue to look for investment opportunities by acquisition to deliver growth and shareholder value.'
Seeka's year-end total net bank debt of NZ$116.8m (US$73.7m) in 2019 compares to NZ$79.1m (US$49.9m) at year-end 2018.