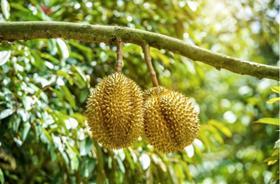 One of the largest malls in Thailand, Siam Paragon, has teamed up with the Thai chamber of commerce to host the 'Thai Chuay Thai Kue Thai Tae @ Yim Pai Duay Kan' fruit fair for the majority of July.
According to the Bangkok Post, the marketplace will enable 160 farmers and local traders from all five regions of Thailand to take turns to sell farm produce at the Parc Paragon, without rental fees.
Each week will feature a variety of fresh fruits, among other items. The central and eastern regions, including Pa La-u durian, date, pomelo and organic melon were the first items featured.
From 9 July to 14 July, Phu Khao Fai or 'volcano durian', seedless watermelon, and pure white Hokkaido sweet corn from the Northeast will be available to consumers.
Passionfruit and avocado from the north of the country will be on display mid-July, before finishing with Tubtim Siam pomelo and other agricultural products on show from the South.