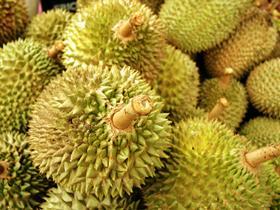 Singaporean businesses have been investing in Malaysian durian plantations in an effort to capitalise on booming consumer demand for the fruit.
The Straits Times reports Michael Siow, a hardware store owner and durian investor, has harvested the first fruits from his venture, Titi Durian, this season.
The permanent resident has invested over S$300,000 (US$220,504) in the Singaporean business, and much more in his plantations back home in Malaysia.
Unlike most other durian wholesalers and retailers in Singapore, Siow owns part of the plantations that supply Titi Durian, named after his Negeri Sembilan home town.
'Probably 99 per cent of wholesalers and retailers in Singapore don't have their own plantations," said Siow.
He owns approximately 32ha of durian plantations, which are split into several plots in the production region.
Challenges to investing in durian production include the long time for trees to bear fruit – which is usually between three and five years.
But for Siow, the main benefit of owning his own production is being able to cut out the 'middleman'.
Siow said he sells 400g boxes of Musang King for about S$20, whereas a similar box could cost up to double that from popular retailers who have to source their durians from wholesalers.
Tan Hwa Chuan is the director of Sindiyan BIG Agro, a subsidiary of plantation company Sindiyan Group. The group is developing approximately 3,640ha durian plantation in Gua Musang, Kelantan - the largest in Malaysia.
He said durian plantations offer a great opportunity for property developers and private equity firms, due to the growing appetite for durian consumption and agro-tourism in China.
'Currently, only about 5 per cent of Malaysia's total durian production is exported, and Malaysia makes up only 1.4 per cent of China's total durian import."
Singapore imported 16,700 tonnes of durian last year, of which 89 per cent came from Malaysia, according to the Singapore Food Agency. The rest came from Thailand and the Philippines.