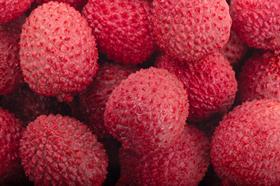 Vietnamese lychees have quickly gained a foothold in Singapore with exports growing more than 30 per cent through 2021, two years after the fruit first entered the market.
According to a report from the Vietnam News Agency (VNA), exports have increased by 37.6 per cent in the first six months of the year, catapulting the fruit into the top five Vietnamese agricultural exports to Singapore.
Trade Office of Vietnamese Embassy in Singapore said excellent marketing and sound coordination between the Ministry of Industry and Trade and localities in Vietnam where the fruit is grown, were key to the success of the fruit.
"When exporting their fruit farmers and exporters pay attention to preservation, packaging, origin tracing and Geographical Indication, all of which was done with lychees," trade counsellor Tran Thu Quynh told VNA.
Rodney Wee, director of Asian Cold Chain Centre, said the performance of Vietnamese lychees in Singapore could lay the groundwork for opportunities in other markets.
"Singapore is a multicultural cross-section of tastes and cultures," explained Wee. "So, if you can meet this test market's standards you know you can go into India you can go into the Middle East, you can go into African countries, you can go everywhere else."