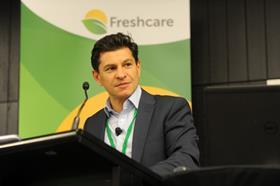 The almost simultaneous decision by Australia's two major grocery retailers to stop giving out free single-use plastic bags in their stores sent a stark message about the significance of plastic bags as an environmental issue.
"Is it an issue bigger than climate change?" Andy Chambers of Seed Consulting asked the audience at the 2017 Freshcare Forum in Sydney. One thing, he said, is certain: "It will impact us much quicker".
Chambers joined Tristan Kitchener of Kitchener Partners, Andrew Monk of Australian Organic and Brendan Hayes of Coles for a panel discussion that moved beyond single-use plastics to explore broader issues of food packaging, environmental awareness, new technology and consumer activism in both Australia and the UK.
Once again, much of the conversation hinged on the question of 'value' versus 'values'. Kitchener, who worked for seven years at Sainsbury's in the UK before joining Coles, said that consumers here and in the UK were "more readily switching between retailer brands, are more influenced by promotions and in short, choosing 'value' over 'values'".
At the same time Kitchener noted that "consumer feedback suggests that the current levels of waste are unacceptable", which perhaps implied the reverse.
"In supermarkets in France, food waste has been banned and supermarkets are forced to give unsold food to charities – unsold food cannot be simply thrown away, as it often is in Australia," Kitchener said. Woolworths, with its 'odd bunch' line of 'ugly' fruit and vegetables, was moving tentatively in this direction.
Political activists, Kitchener said, were both highly concerned and highly informed. In the UK, anti-sugar activists, including celebrity chef Jamie Oliver, had placed pressure upon the British government to impose a tax on sugary soft drinks. In today's consumer landscape, Kitchener told the forum, businesses were under pressure to "take the lead and own the relationship with the consumer – if you don't manage the issue, then the issue will end up managing you".
In Australia, he said, a storm is brewing over single-use plastics and over-packaging and customers are starting to push back against overly-packaged products. This could be a challenge for Aldi, which sells a much higher proportion of pre-packed fruit and vegetables than Coles or Woolworths.
Andy Chambers provided some chilling figures: of the nearly 7bn tonnes of plastic waste generated in 2015, only 9 per cent was recycled; 12 per cent was incinerated, and a shocking 79 per cent accumulated in landfill or the environment. Plastic waste will be around for a long time. A plastic water bottle is expected to take 450 years to break down; extruded polystyrene foam will take 5,000 years.
The huge volume of plastic in the environment was becoming a health issue for all of us, Chambers said. Studies showed that there was not a wild fish in the world's oceans that did not carry traces of plastic. So how can we change our behaviour?
According to Brendan Hayes at Coles, "Consumers want value above all … evidence suggests that buyer habits barely change."
Coles and Woolworths have both committed to ending the free use of plastic bags in their stores, and Hayes commented that Coles are investigating alternatives to single-use plastic bags currently used for online and home deliveries. (LINK)
Andrew Monk, chairman of Australian Organic, was more candid: "Consumers are always demanding more, not less, with a focus on convenience, but in this instance, that poses a real contradiction and challenge for the retail sector".
Discussions following seemed to reach a consensus that rather than putting pressure on the retailers, efforts needed to be focused on changing consumer behaviours to focus more on their values and less on overconsumption.
Monk pointed to the strength of the organic sector as evidence that other forces were at play. A strong rise in Australia's organic exports in 2016, together with healthy growth in the number of certified organic operations, gave the audience grounds to hope that current consumer behaviour might not be so reflective in predicting the future.
"Traditionally we've always thought the environment was free," Chambers added. "In a tough commercial environment something will always miss out and it has usually been the environment because we haven't put a value on it."
If the growing unease about plastic bags and food waste is any guide, it seems as if that might be starting to change.