Harvest light and late due to an exceptionally cold spring, with volumes expected to remain tight until July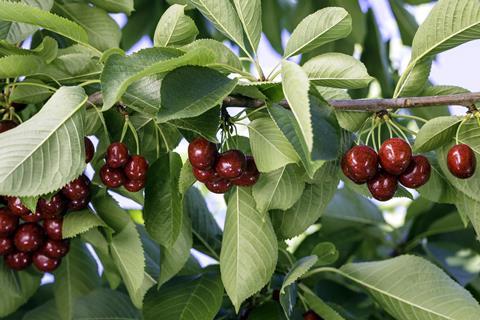 The 2022 Northwest cherry harvest is finally getting going, but volumes are expected to remain tight throughout June due to a very cold spring, which has radically reduced this year's crop.
Reports suggest April 2022 was the third-coldest and tenth-wettest for Washington State in the last 128 years; snow reportedly fell on high-elevation blooming orchards in the Wenatchee area as late as 12 May.
All of this made for uneven pollinating conditions across Washington and Oregon, the two largest cherry-producing regions in the Northwest. Simply put, cold weather keeps bees in their hives and off the flowers, ultimately resulting in excessive pre-season fruit drop.
True to form, growers have recorded large quantities of partially pollinated cherries scattered across their orchards, prompting the Northwest Cherry Growers (NWCG) to steadily revise forecasts lower; the most recent called for just 13.6m cartons (9kg), which would be the shortest crop in more than a decade if accurate.
"Short crops tend to get shorter," said CMI Orchard's March Pflugrath. "The cold April and multiple spring frosts hit the Bing crop particularly hard. We are anticipating a very tight month of June for cherries."
Randy Eckert of Starr Ranch Growers said "allocation" may be the operative word for this year.
"Early reports are that fruit sizing is small due to the lack of heat and has production down by 40 to 50 percent or more in some areas," Eckert explained. "Every year is different for cherry growers and this one is looking to be no exception."
The Northwest industry normally expects two production peaks each season – one in late June with Bings and a second in early July when later-maturing varieties become available.
This year, according to the NWCG, it looks as though the June peak may not materialise, as many mid-season orchards "do not have a harvestable crop".
Prospects look much more promising once the harvest moves into July, since much of the late-season crop appears to have weathered the frigid spring to the extent that promotions at the retail level will be possible.
QUESTION MARK ON EXPORTS
Exports are an important part of the Northwest's seasonal distribution mix, accounting for about one-third of overall sales each season.
The last two years, however, cherry exports have fallen below the 30 per cent level, as high tariffs, an expensive US dollar and shipping disruptions have taken a toll. With little change in these circumstances expected anytime soon, combined with the shortfall in production, the Northwest industry is anticipating another season of relatively low export volume.
"There's no doubt exports will be reduced this year," said Steve Reinholt of Starr Ranch Growers. "But the fact that international markets pay a premium for our quality fruit you have to consider (the enhanced) returns to our growers.
"On the other hand, the risk factor is much higher, especially given the current situation, when compared to a sure sale on the domestic market. But even with more planes flying now, freight costs are unbelievably high and combined with the strong US dollar, you have to wonder how much demand there will be."