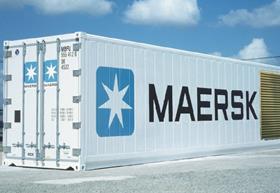 The social media presence of international shipping leader Maersk Line has been championed at a major awards ceremony in Berlin.
At the European Digital Communications Awards in Berlin, the Denmark-based group landed not only the Community Presence in social media award, but also the prestigious Social Media Campaign of the Year title.
'At an extremely low cost shipping giant Maersk Line has secured an astounding 420,000 fans on Facebook and a comprehensive presence on 8 other platforms – in less than 11 months,'the jury explained.'The company's social media programme has changed the face of Maersk Line and is an example for other B2B companies to follow.'
Klavs Valskov, head of communications at Maersk Line, welcomed the awards, particularly given the strength of the other candidates, and emphasised that social media offered much to B2B companies.
'Right from the beginning we were very conscious of the fact that social media is about communication, not marketing,' addedJonathan Wichmann, Maersk Line's head of social media. 'It's about connecting and engaging, not about pushing your products.
'I think it says a lot that we won both Social Media Campaign of the Year and Community Presence, he noted. 'We never thought of it as a campaign, but rather as a way of being, a presence. If you treat social media as an add-on in the marketing department you've missed the point.'