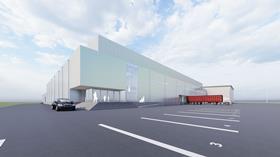 A group of Japanese investors, including vertical farming specialists Spread, has unveiled plans for a large-scale automatic vertical farm.
Chubu Electric Power, ES-Con Japan and Spread have entered into an investor agreement and established the company Tsunagu Community Farm to construct and operate vertical farms.
The new venture will utilise Chubu Electric Power's energy management know-how, ES-Con Japan's real estate development capabilities, and Spread's cultivation technologies will allow for the efficient and stable production of pesticide-free, safe and clean vegetables.
The new company's first project will be Techno Farm Fukuroi, a 24,400m2 fully automated vertical farm located in Fukuroi-shi, Shizuoka prefecture, Japan. Construction is expected to start in October 2020 with production to begin in January 2024.
The trio said the facility will be one of the world's largest automated vertical farms capable of producing 10 tonnes of leafy greens per day or 3,650 tonnes per year.
Sustainability is at the core of Techno Farm Fukuroi's design, it will utilise energy-efficient LED lighting developed by Spread specifically for vertical farming, plus the IoT-based cultivation management system will allow for precise environmental control.
Renewable energy will help power the project and water used during the cultivation process will be recycled.