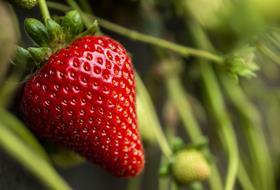 Traditional strawberry growing methods will be compared to more high-tech methods as a smart agriculture competition held in China brings together growers from around the world.
The inaugural Duo Duo Smart Agriculture Competition, organised by the China Agricultural University and e-commerce platform Pinduoduo, entered its final stage with on July 1 with growers given until 1 October to deliver their results.
Over the next four months in Yunnan province, competitors from around the world are set to devise planting methods that are best suited for the local conditions, using either advanced artificial intelligence (AI) technologies or traditional methods under the technical guidance of the Food and Agriculture Organization (FAO) of the United Nations.
Gong Yuan-shi, vice president of the China Agricultural University, said developing technology-assisted growing would be essential to the future of horticulture in China.
"China's agricultural development is in an important era of transformation and upgrading," said Gong.
"Rapid innovations and significant breakthroughs in agricultural technologies would have a tremendous impact on the development of the agricultural industry."
The technology-backed teams will remotely grow strawberries in digital and unmanned greenhouses. They will formulate and optimise AI-solutions, based on growth data and greenhouse conditions gleaned from IoT devices, cameras and sensors.
Meanwhile, the traditional teams will rely on their collective experience and skills in agricultural management, to upgrade traditional smallholder production.
The competition will be judged on the technical advancement, practicality and economics of the proposed solutions. The quality and quantity of the strawberries will also be considered as part of the evaluation.
The winning teams will receive research funding from the Pinduoduo Agritech Research Fund and will have the opportunity to help implement their findings in Pinduoduo's Duo Duo Farms project.
Asiafruit is now available to read on your phone or tablet via our new app. Download it today via theApp StoreorGoogle Play.