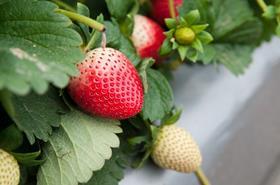 In Baguio City, Philippines new greenhouses are being built for cultivation of strawberries as part of the local government's plan to spur economic recovery.
The City government of Baguio has funded a pilot programme aiming to improve the productivity of strawberry cultivation in urban settings with the use of vertical farming and raised-bed technology in greenhouses.
The City Veterinary and Agriculture Office(CVAO) will manage the programme and oversee the construction of six greenhouses.
Brigit Piok, head of CVAO, said a training component will be included in the initiative where the supplier will provide technical know-how and capability-building to growers.
Piok said the facilities will also serve as a learning site on strawberry urban farming for urban dwellers especially for the youth, with 120 young growers expected to study and then operate the project after the pilot.
Benjamin Magalong, mayor of the City ofBaguio, said the Covid-19 pandemic had created a new normal and this was one way the city could adapt and boost the economy.
Magalong said with proper implementation this initiative could be a lucrative income-generating project for the beneficiaries, help boost the promotion of agri-tourism in the City and increase the volume of locally-produced fresh strawberries.