Shanghai Supafresh conducted two Peruvian avocado marketing campaigns during August in association with ProHass, the Peruvian Hass Avocado Producers and Exporters Association.
Running promotions on both online and offline channels during the peak season helps to further increase consumer awareness of Peruvian avocados in China.
It has been a tough year for Chinese fruit importers in 2022. Successive waves of the Covid-19 pandemic have affected market demand. Consumers are becoming more careful and selective over the products they buy. In this challenging environment, ProHass continues to cooperate with key Chinese fruit importers to carry out marketing activities and promote Peruvian avocados.
The Supafresh marketing department and ProHass held a Peruvian avocado tasting event on 20-21 August in BUT Supermarket's Haerbin Hongbo Central Park store. Over the weekend promotion, a demonstration chef from Supafresh presented a variety of recipes to consumers using Peruvian avocados. Under the guidance of the demo chef, shoppers participated in making one of the avocado desserts. Consumers had fun making avocado recipes, while also learning a variety of ways to eat avocados at home.
As one of the top 100 enterprises in Heilongjiang Province, BUT commercial group has had a strong presence in the Northeast market for many years. BUT is well-known for its retail business, with over 40 supermarkets in the Northeast provinces. Fresh food is a core category in the supermarket business, and a key factor in standing out from the competition. Supafresh began supplying Peruvian avocados to BUT four ago years in 2018. Today, Supafresh's ready-to-eat avocado brand Bravocado is stocked in all BUT supermarkets.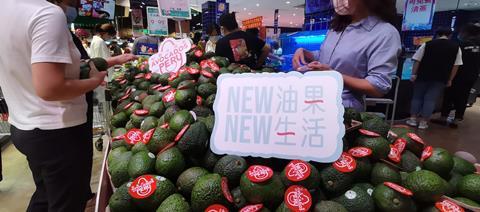 Shanghai Supafresh and BUT Supermarket set out with a vision to penetrate second-tier cities with Peruvian avocados, and they remain committed to this goal. Thanks to active promotion in recent years, the acceptance of Peruvian avocados in the Northeast market is now high, and both awareness of and demand for Peruvian avocados are steadily increasing. With the huge potential for Peruvian avocados in the Northeast market, Supafresh is planning more marketing events in collaboration with ProHass in the future to spread the concept of "New avocado, New life" to every family in the Northeast market.
On the evening of 27 August, online shopping platform PuPu launched a live broadcast on the theme of Peruvian avocados in its Fuzhou studio, reaching over 29,000 viewers. Supafresh's marketing manager Elena Wong joined the broadcast as a special guest to highlight the nutritional value of Peruvian avocados to the audience. She also answered questions on how to tell the ripeness of avocados and how to store them. In addition, one of the key influencers from the healthy food category on Little Red Book was invited to demonstrate several healthy avocado recipes, which sparked a heated discussion in the live broadcast chat room.
Established in 2016, PuPu launched a real-time e-commerce business model with a mission to "Make everyone live better". With high-frequency fresh food as the volume driver, PuPu is committed to creating a one-stop shopping platform for 30-minute quick delivery. Supafresh has successfully sold its ready-to-eat avocado brand Bravocado to seven cities served by PuPu and reached 30m registered users on the platform. With the further expansion of PuPu in the near future, Supafresh will bring fresh and high-quality ready-to-eat Peruvian avocados to more PuPu users in more cities.