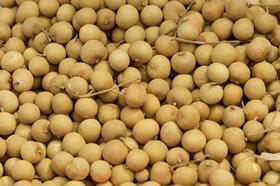 The Cambodian government has purchased over 100 tonnes of longan from smaller growers as the country's industry faces trade disruption.
A large share of Cambodia's longan exports is sent to China via Thailand, but this market was cut off on 12 August when Chinese authorities banned longan entering from Thailand.
According to a report from the Phnom Penh Post, Cambodian Prime Minister Hun Sen ordered Hing Bun Heang, his cabinet's deputy chief, to organise the purchase of longans from farmers who could not find a market for them due to pandemic-related border restrictions.

This initiative was focused on smaller independent farmers while large-scale producers were expecting to find a market by themselves.

Hun said the government would distribute the fruits for free to frontline workers including medical workers and military personnel, and those in quarantine centres.

"[Governors], please remember that I am only referring to poor farmers who grow longans directly. For the plantations owned by government officials or military officers or tycoons or corporations – they have to find a market on their own," said Hun.
"I will mortgage my house for money to give to farmers who are struggling, but I am not able to help landowners with big longan plantations, please understand."
Nguon Rattanak provincial governor of Battambang, told the Post authorities worked directly with growers to provide support.
"We decided not to purchase them all in one location because we were afraid we might end up buying them from big plantation owners or commodities traders. Instead we went directly to the small plantations," said Nguon.
"We brought trucks to transport the fruit and men to help them with harvesting. We don't want them to spend anything on transportation, either. We will continue visiting farmers district by district and the local authorities there will help us find the independent farmers who couldn't sell their fruits."