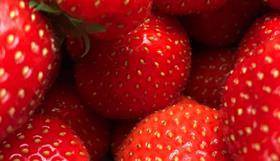 Korea's agricultural ministry has announced a series of charted flights to Singaporeto help the country's strawberry exporters.
According to the Ministry of Agriculture, Food and Rural Affair, the Korean strawberry export organisation K-berry, the Korea Agro-Fishery and Food Trade Corporation (aT), and Korean Air have signed a multilateral business agreement securing flights dedicated to strawberry exports.
The first strawberry-only aircraft was scheduled to depart on 11 December and the service will operate four times a week until April 2021, facilitating the export of around 1,072 tonnes of strawberries across 80 flights.
Singapore is the second-largest export destination of strawberries for Korea. In 2019, the country shipped 1,421 tons of berries worth US$13.7m according to aT.
Kim Jong-gu, food industry policy officer of the Ministry of Agriculture and Food, said Covid-19 had reduced air travel and affected exporters' ability to reach international markets.
"There are many difficulties for farmers and companies that export strawberries due to the prolonged period of Covid-19," Kim said.
"This business agreement is expected to secure a stable airfreight route for exports to Singapore and relieve farmers' trouble."