Licensing agreement will see New Zealand-bred apples grown in China
Next Generation Apples (NGA) has signed an agreement with Shenzhen SVM (SVM) that will see two New Zealand-bred apples grown in China.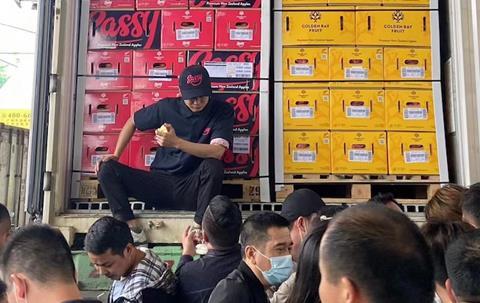 The deal gives SVM licensing rights to Sassy and Posh in Greater China, allowing them to recruit growers and market the two branded varieties in the region.
New Zealand-based NGA – a joint venture between Taylor Corp and Golden Bay Fruit – holds the global licensing rights (excluding Australia) to both varieties.
"This partnership gives us the ability to service a key market for Sassy in the counter season for Southern Hemisphere licensees, with strong programme management to protect the value as we expand," said Evan Heywood, chief executive of NGA.
SVM managing director John Morton said the first commercial volumes of Sassy would be planted in China in 2027.
"We've been happy with how our test trees have responded to the climate in China and are confident we'll produce great tasting Sassy here," Morton explained.
"As local partners, we have the responsibility and vested interest to protect the IP of these varieties and carefully manage the expansion to ensure demand stays ahead of supply. We have oversight over the whole process, from nursery, through to marketing which ensures the brand is protected throughout the process."
NGA has signed a similar license agreement with Top Fruit in South Africa and is in conversations with companies in other key apple growing regions around the world.
New Zealand production volumes of Sassy will ramp up this season, with 20 containers heading to key customers across Greater China, Thailand, Vietnam and Cambodia this year, as well as the domestic market.
Sassy and Posh were bred by New Zealand's Plant and Food Research (PFR), and commercialised by Prevar New Zealand.