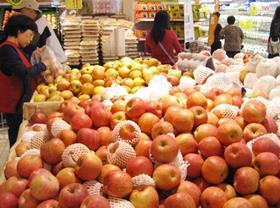 Taiwan is confident it has enough agricultural stocks to maintain supply for up to six months in the event of further deterioration of trade because of thecoronavirus (Covid-19) pandemic.
Ensuring supply is of particular importance for Taiwan as according to the country's Council of Agriculture (COA), Taiwan was dependent of imports for 66.4 per cent of its annual caloric intake in 2018.
Authorities already manage stocks of key products to combat price inflation and provide enough supply in case of an event such as the current pandemic.
However, in response to concerns over food security, the COA reviewed stocks and predicted production levels to determine if supplies cover the country's needs.
The COA said Taiwan's total supply of fruits will reach 1.55m tonnes in the next six months, a figure that surpasses the safety threshold.
The country's supply of vegetables also passed what authorities considered the safety threshold with supply anticipated to reach 1.55m tonnes.