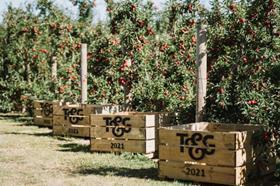 T&G Global has underlined a "strong profit result" over the 2020 financial year (12 months to 31 December 2020).
The New Zealand-headquartered company reviewed its fiscal performance at its annual shareholder meeting today (23 June).
Highlights included an overall revenue of NZ$1.4bn, up from NZ$1.2bn in the 2019 financial year, along with a net profit of NZ$16.6m, up from NZ$6.6m the year prior.
"The pleasing financial results from FY2020 are a result of excellent teamwork and an ongoing transformation to improve our underlying performance," said T&G chief executive Gareth Edgecombe.
"Our focus on ensuring we have an inspiring purpose and clear strategic direction that is supported by our entire team, has played a big part in delivering these positive results."
Challenges ahead
Edgecombe also commented on the outlook for the 2021 financial year.
'While we thought 2020 was a difficult year, 2021 is shaping up to be even more of a challenge,' he explained.
"It was a tough start to the season for our apples business, with adverse weather in Nelson impacting a significant portion of our own crop, and that of our growers.
"At the same time, the impact of Covid-19 continues to present a number of challenges, including a shortage of seasonal workers and disruptions throughout the global logistics system.
"Our team did a phenomenal job hiring over 950 New Zealanders throughout the season to work alongside a reduced number of Recognised Seasonal Employer team members. However, at the peak of the season we were still short around 300 people per day, which meant we had to leave some produce unpicked, including export apples.
"Like many exporters, supply chain congestion and a shortage of containers is impacting how we get our fresh produce to global markets. Our team is working tirelessly to source charter ships and partner with other businesses and industries, to ensure we can meet customer demand."
On the home-front, Edgecombe said the team at T&G Fresh was working hard to streamline its operations, following the acquisition of Freshmax New Zealand.
"Our T&G Fresh domestic business has been operating in a difficult environment and the team is well progressed in addressing these challenges, as well as delivering increased synergies from our 2020 acquisition of Freshmax New Zealand,' he explained.
"While many of the challenges we're facing are industry wide, I'm confident T&G has the right strategy, the best people and the fortitude to get through them. We're doing everything we can to build on the underlying financial strength in our business and I know we'll be able to meet these challenges head on."
Changing of the guard
The shareholder meeting was an opportunity to honour T&G's outgoing chairman, Klaus Josef Lutz, who has served in the role for nine years.
Lutz took the opportunity to reflect on his time with the company.
"The strategic programme of work that T&G has undertaken over the past nine years has been immense," he said. "Enabling the selling of non-core assets allowed reinvestment into growth activities, contributing to the development of new plant varieties and world class genetics, redevelopment of orchards and the introduction of state-of-the-art technology and automation.
"This strategic growth continues, and with its focused business strategy, strong leadership and continual improvements, T&G is primed to harness opportunities into the future. I'm proud of the incredible transformation the business has made in the past nine years."
Incoming chairman, Benedikt Mangold, leads BayWa's global produce division and has previously worked at T&G.
"There is unabated demand internationally for high quality fresh produce, and this creates an incredible opportunity for both T&G and BayWa's Global Produce business," Mangold explained.
"I have a deep understanding and passion for T&G's business following three years working within the company in New Zealand. A lot of work has gone into creating a strong foundation, positioning T&G well for future growth, and I look forward to harnessing my knowledge and experience and working alongside our strong board and talented leadership team to further strengthen the business."