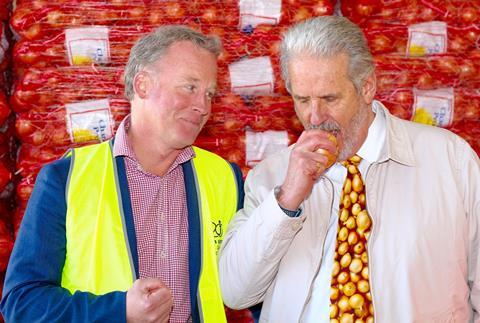 Forward thinking combined with a unique situation of demand have led to a resurgence in Tasmania onion exports.
The island state supplied over 85 per cent of the 17,000 tonnes of onions exported from Australia during the first five months of 2019, a figure that doubles the whole-year total of 8,000 tonnes exported in 2018.
"Not only has the volume more than doubled, but the value of our onion exports has risen from A$7M to a$16m," said Ian Locke of the Tasmanian Fruit & Vegetable Export Facilitation Group.
"This is wonderful news for growers and our economy, directly impacting on Tasmania's balance of payments."
Tasmanian suppliers were able to leverage heightened demand from European markets, which were in short supply when the Australian season got underway. The shortage was the result of a record heatwave, which decimated domestic production in Northern Europe over the 2018/19 campaign.
Export efforts were also aided by the PASE project. Backed by federal government funding, the project was implemented by the Tasmanian Fruit & Vegetable Export Facilitation Group last year to explore niche export opportunities. The project's launch came amidst a sharp decline in Tasmanian onion exports, which had fallen from 44,000 tonnes in 2013 to 14,000 tonnes in 2017.
Along with traditional markets like Europe, the project is helping Tasmanian growers and exporters set their sights on new niche openings.
"I have just returned back from Indonesia which is one of the most exciting emerging markets. In fact, it is where we are currently focusing much of our time," said leading Tasmanian onion exporter Tim Groom from Wynyon.
"Tasmanian onions are prized around the world for their great shelf life, rich flavour and beautiful shiny skins – onions don't get any better."
Speaking at a media conference in North West Tasmania last week, Locke was optimistic the tide had turned for the state's onion export industry.
"We are not out of the woods yet, but we are well on the way," Locke explained.
The media conference was held in the same onion packing shed where then Australian Prime Minister, Tony Abbott, ate a raw onion four years ago. It was an act Locke bravely re-enacted in front of dignitaries including Tasmanian premier Will Hodgman.