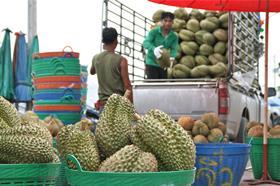 Thailand's durian industry is preparing to navigate China's strict Covid-19 protocols so it can maintain exports to the crucial market during the upcoming season.
According to a report from Channel News Asia (CNA), the industry is alert to the repercussions of any detection of Covid-19 under China's zero-COVID-19.
Chonlatee Numnoo is director of the Agricultural Research and Development Office in Region 6, which is home to some of Thailand's largest areas of durian production.
Chonlatee told CNA if Covid is detected on a shipment, the fruit would be destroyed, and the border could be closed for several days or weeks. This is a situation that has already played out for Thai fruit growers last year, especially during longan season as well as for Vietnamese exporters.
"The damage was immense, with tens of thousands of tonnes of the fruits estimated to have spoiled," said Chonlatee.
"It's difficult for us to control it because there are chances of detection by random checks. Moreover, given the current situation of Covid-19, the Omicron variant is easily transmitted and spreads fast. So, we're quite concerned."
According to data from Thailand's DepartmentofAgriculture, more than 875,000 tonnes of durian was exported to China in 2021 worth at least US$3.4bn.
The industry cannot afford to lose access to such a lucrative market, so it has begun implementing its own zero-COVID-19 strategy at farms and packhouses across the country.
This includes regular Covid-19 testing, personal protective equipment for workers and disinfection for shipments and trucks.
"We must ensure our packing houses are free from Covid-19," Chonlatee said."Even for the drivers who will bring in trucks, we also have control measures for them. For example, they have accommodation specially designated for them."
Another way the industry is hoping to facilitate exports this season is by gaining access to the new China-Laos railway. The route was opened at the end of 2021 and would provide an advantageous additional option for Thai durian exporters who currently ship a significant amount of product through Laos and Vietnam.
Thailand has been granted approval to use the high-speed railway to export fruit but the Department of Agriculture is trying to negotiate access and there are hopes this could be done by mid-2022.
Panusak Saipanich, president of the Thai Durian Association, said gaining access to the route would provide a huge boost.
"The capacity of the train is quite high. One trip could transport about 35 containers or maximum 50 containers," said Panusak.
"This could solve a lot of problems in the export sector. If the railway deal is successful, we won't have to be stuck at land border crossings. In case any of them is closed, the rail route could take up the transport for a long way.
"We're waiting to see if China will approve it in time for this fruit season because in May, we'll have both durians and mangosteens. If there is any incident at the land border crossings, there will be considerable impact and this is worrisome."