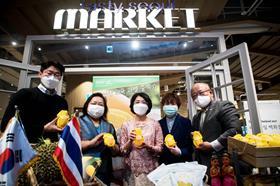 The first Thai Mahachanok mangoes have been sold in Korea with the fruit to be stocked at Hyundai Department Stores across the country.
Thailand had been working to gain access to Korea for this variety of mango for nine years and the development was celebrated with Thai fruit promotion event in Seoul, organised by the Thai Trade Centre Seoulcollaborates with Hyundai Department Store.
The Taste ofThailand2021 launch event was the first of many planned by the Thai Trade Centre Seoulto promote Mahachanok mangoes in Korea.
Meanwhile, the fruit will also be sold at 16 branches of Hyundai Department Store nationwide as well as through the retailer's online store.
Vilasinee Nonsrichai, director ofThai Trade Centre Seoul, said the Mahachanok mango variety would join the Nam Dok Mai mango variety, which already has access to Korea and is a favourite with consumers.
'Thailandis a paradise of tropical fruit and there is various type of fruits that Koreans have not tasted yet,' said Nonsrichai.
'Mahachanok mango is one of them, which is a premium mango that can be enjoyed by your eyes, noses and lips with colourful colours, sweet sour taste, and aroma. I look forward to receiving a lot of love from Koreans.'