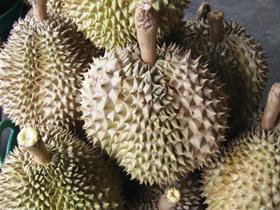 Thailand has committed to improving the sustainable production of durian as part of a new project launched by the Food and Agriculture Organization of the United Nations (FAO).
The project – titled the Global Action on Green Development of Special Agricultural Products: One Country One Priority Product (OCOP) ­– aims to develop green and sustainable value chains for special agricultural products and support small farmers reap the full benefits of a global market.
Speaking at the online launch of OCOP, Thailand's agriculture and cooperative minister Chalermchai Sri-orn said durian would be his country's "special agricultural product'.
"Thai during cultivation is a sustainable and green agriculture. By planting durian alongside herbal plants to prevent and eliminate pests, without using chemicals. This way we cause no contamination to natural water and human health," said Chalermchai.
"Thai durian cultivation has now become a community enterprise, and a cooperative network with tangible and proper management systems. As a result, Thai durian has been certified as GAP with the potential to expand to an export market."
Chalermchai noted the space Thai durian had already carved out in export markets and said further growth was on the horizon.
"The identity of Thai durian is an important factor that increases the value of the product. Thai durian is a Thai agricultural product with the highest export volume and revenue," said Chalermchai.
"Durian export value has continued to increase consistently during the past decade, generating significant income for Thai farmers continuously."
FAO director-general Qu Dongyu said OCOP would help countries diversify production and improve sustainability.
"Today, global food supplies increasingly depend on just a few crops and products. Most agri-food systems have high-input, are resource-intensive and lack integration, optimisation and innovation," Qu said.
"The goal of this global action is to bring significant outcomes for national economic competitiveness, social inclusiveness and sustainable development," Qu said.