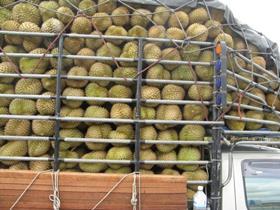 China has encouraged Thailand to adopt World Health Organisation (WHO) and Food and Agriculture Organisation (FAO) guidelines in a push to establish confidence in exported durians and maintain a market worth an estimated Bt50bn (US$1.67bn).
Pattaya Mail reports Pichet Wiriyaphaha, director-general of Thailand's Department of Agriculture, has consulted relevant agencies and representatives in China to establish confidence in durian exports to China during the ongoing pandemic.
China represents a significant market for Thailand's durian exports, with preparation of exports expected to take place from February to May 2021.
President of the Thai Durian Association, Phanusak Saiphanich, has raised concerns which are set to be discussed in due course, all with the aim to help maintain the Thai durian export market.
Each year, durian exports to China are worth an estimated Bt50bn for Thai producers, with over 140,000 farming households and other people in the durian business depend on the success of the export system
Thailand's Department of Agriculture and National Bureau of Agricultural Commodity and Food Standards (ACFS) has also met with representatives of the General Administration of Customs of China (GACC).
GACC reportedly advised ACFS that the Chinese government has enhanced measures to control Covid-19 contamination in goods imported from abroad. This comes only days after reports Covid-19 had been discovered inside the packaging of imported cherries. A subsequent test revealed it was a false positive, however the damage to the popularity of the product and its sales had already been done.
Pattaya Mail reports there will be strict random inspection of products and sterilisation measures must be taken for all imported items. However, China has praised the Thai fruit export management system as being very effective and maintaining a high level of safety.
Throughout the pandemic, Covid-19 contamination has never been detected in Thai fruit packaging or products. Thailand emphasized that the Thai government and Thai private sector have joined forces to take preventive and control measures to ensure the safety of Thai products along with maintaining its quality.
Suthee Thongyaem, Governor of Chanthaburi, said eastern and Chanthaburi durian were set to be harvested and exported overseas. To build confidence among partner countries during the Covid-19 outbreak, the province has put in place strict Covid-19 prevention measures.
These include agricultural products set for export must meet the GAP standard and be free from Covid-19. Workers must undergo screening before entering the fruit farm each time, and all workers at fruit buying stalls must undergo screening and body temperature measurements. They have also insisted every piece of packaging that is to be sent abroad will be sterilised beforehand.
Industry to get vital funding
Meanwhile, Alongkorn Polabutr, adviser to the agriculture and cooperatives minister Chalermchai Sreeon, has confirmed plans for expanding both local and international markets for the country's fruit industry.
The National Thailand reports the fruit board has earmarked 492m baht (US$16.4m) for increasing sales channels for fruit growers as well as launching promotional campaigns.
Reports suggest the fruit board is also planning to link up with the Chinese rail link via Laos as well as link up with markets in South Korea, Russia, Central Asia, the Middle East and Europe.
A traceability system, currently in place, will also be improved to ensure consumers' confidence.