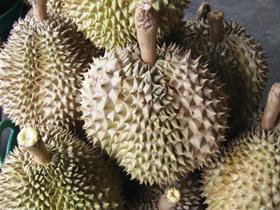 Thailand's fresh fruit exports have withstood the challenges posed by the Covid-19 pandemic, with new figures from the country's Trade Policy and Strategy Office showing 42.2 per cent growth during the first half of 2021.
Phusit Ratanakul Sereroengrit, director-general of the Trade Policy and Strategy Office, said 2021 looked set to be a golden year for the Thai fruit trade, with the country's fruit exports continuing to expand significantly among other important export products.
In a report byBangkok Post,Sereroengrit said the export rise was partly due to proactive policy delegated by Thailand's commerce minister Jurin Laksanawisit, who enlisted Thailand's commercial ambassadors in foreign countries to help with online and offline business matching between foreign importers and Thai fruit traders.
During the first half of 2021, Thailand exported an estimated US$2.89bn in fresh fruit. This increase was driven by fresh durian (up 58.2 per cent), longan (up 51.4 per cent), mangoes (up 50.0 per cent), bananas (up 18.59 per cent), pineapple (up 98.85 per cent), citrus (up 374.75 per cent), and lychee (up 32.35 per cent).
Bangok Postreports China - which recently reminded Thai exporters of the need for tighter Covid-19 protocols - was the leading export market, accounting for more than 83 per cent of all Thai fresh fruit exports, with Hong Kong, Vietnam, Malaysia and Korea following.
In the first half of 2021, fresh fruit exports to China reached US$2.43bn, a rise of 71.1 per cent. Guangdong was the leading importing province, importing US$867.5m worth of fresh fruit, followed by Guangxi Zhuang worth US$743m, and Chongqing, worth US$485.79m.
Boosted by the first-half results, the ministry is optimistic fresh fruit exports will grow by 66.8 per cent this year to reach US$5.53bn.