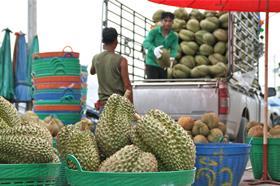 Thailand's fresh fruit exports to the 18 countries it has free trade agreements with grew 107 per cent in the first two months of 2021, compared to the same period last year, according to Thailand's National News Bureau.
Director-General of the Department of Trade Negotiations, Oramon Sapthaweetham, said the total trade was valued at US$461m, accounting for 94.94 per cent of the country's total fruit export.
Thai durian, mangosteen, longan and mango were the key movers, with China, Malaysia, Singapore, Indonesia, the Philippines, Hong Kong, Australia and Chile top importers.
Thailand is the seventh largest fruit exporter, and the country is expected to maintain continuous growth in the long term.