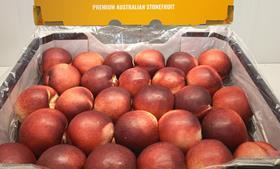 Consumers in China will see a new, premium stonefruit brand this season, with shipments of 'Tōpa' on track to arrive ahead of Lunar New Year celebrations.
Tōpa is the new brand name given to the Australian-grown white nectarine previously known as Majestic Pearl.
The rebrand coincides with a change to the production approach, according to Summerfruit Export Development Alliance (Seda) deputy chair, Frank Frappa.
"The rebrand of Majestic Pearl consolidates a group of growers who are aiming to produce an even better-quality product than before," Frappa said. "Tōpa will be a premium product, which means growers are aiming for 80 per cent blush, a Brix level of 13o and large consistent sizing."
The branded variety is owned by Summerfruit Australia, which put the marketing contract out to tender. Frappa, who is also the executive general manager of international sales at LaManna Premier Group (LPG) – one of the two companies selected to market the fruit – stressed it was an independent process that saw LPG and N&A Produce awarded the three-year licence.
Six Australian growers have signed up as suppliers and Frappa said he is confident the new brand has a bright future ahead.
"These are premium Australian nectarines grown to perfection, and full of delicious flavour. The fruit is eating as well as I've ever tasted it, and Tōpa represents the burst of joy that you get in every happy family moment."
Harvesting began in late December with fruit available in the China market from January through March. Frappa said LPG's promotional approach will focus on Chinese end consumers this year.
"Our plan is to increase awareness and build Tōpa as a trustworthy brand. The most important element of high-end fruit sales is credibility," he noted.
"Having content available on various platforms and posting quality content on a regular basis will largely increase brand awareness.
"We'll also have an influencer campaign which we hope will further enhance Tōpa's brand credibility. Consumers will be directed to follow the official accounts for future nurturing and conversion."
For more on Australian stonefruit, read Asiafruit December / January 2022 via the official app or contact subscriptions@fruitnet.com to recieve your copy.