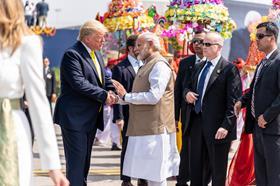 President of the United States, Donald Trump, is currently in India leading a delegation that's expected to discuss trade relations between the two countries.
India, a major export market for US apples, pears and Californian almonds, imposed retaliatory tariffs in June 2019 on a range of horticultural products, including apples (up 25 per cent), almonds (up 20 per cent) and walnuts, in response to tariffs imposed by the US on steel and aluminium exports.
According to Live Mint, the tariffs imposed by India have led to a dip in the imports of these items. Almond imports were valued at US$701m in 2019, a drop of 8.8 per cent year on year.
Apple imports were valued at US$59.1m, representing a 64 per cent drop, while walnut imports fell to US$14.2m.
The decline in imports has prompted various trade bodies and representatives to increase overall marketing spend.
The Almond Board of California reportedly budgeted US$5.5m to promote its produce to Indian consumers in a move it said, 'reflected its continued commitment to the market'.
The Washington Apple Commission (WAC) announced in January that Indian actress Disha Patani and popular chef, Sanjeev Kapoor, would be brand ambassadors for the fruit.
At the time of the announcement, president of WAC, Todd Fryhover, commented on the importance of India as a market for Washington Apples.
"The country has been in the top three markets for Washington Apples globally for a few years now and is destined for further growth,' said Fryhover.
Trump's twitter pledge
As negotiations continue between the US and India, the finer details of the Phase One trade deal signed by the US and China in January are gaining more attention.
In an article published in theWashington Post, a senior US department of agriculture official has said that China might end up buying only US$14bn of American farm products through to the end of September, well short of the US$40bn that President Trump had initially promised.
The USDA reported that total farm debt was expected to reach US$425bn this year, which would be an all-time high.
In an all-caps tweet, President Trump announced the government's multibillion-dollar bailout programme of the US farm industry would continue; "IF OUR FORMALLY TARGETED FARMERS NEED ADDITIONAL AID UNTIL SUCH TIME AS THE TRADE DEALS WITH CHINA, MEXICO, CANADA AND OTHERS FULLY KICK IN, THAT AID WILL BE PROVIDED BY THE FEDERAL GOVERNMENT," Trump tweeted.
The bailout programme has already cost American taxpayers US$28bn.