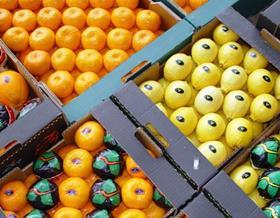 Turkey's fruit and vegetable exports have remained strong in the midst of the coronavirus (Covid-19) pandemic, despite overall exports dropping.
According to a report from the Daily Sabah, Turkey's agricultural exports rose 4.5 per cent year-on-year in March, conversely, overall exports declined by 17 per cent.
Data released by the Turkish Exporters' Assembly (TIM) showed fruit and vegetable exports increased by 26.9 per cent compared to last March to reach a total value of US$162.4m for the month.
The category that experienced the largest growth was hazelnuts. Hazelnut exports more than doubled year-on-year reaching a value of US$208.8m for March.
When it came to destinations for Turkey's produce, Russia was the leading importer of fruits and vegetables, meanwhile, Italy was the largest importer of hazelnuts.
Ruhsar Pekcan, trade minister of Turkey, said the country had made provisions to reduce the effect of coronavirus on its exporters.
"We say 'continue production and export' with the contactless trading application that will set an example for the world," Pekcan said on Twitter.