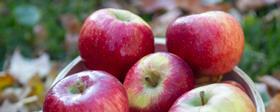 The University of Minnesota fruit breeding programme, which produced the popular 'Honeycrisp' apple variety, has released it's latest apple variety.
Known in the breeding programme as 'MN80', the apple will be marketed as 'Triumph', with the university's apple breeder, David Bedford, highlighting it has strong disease resistance.
It contains two genetic forms of resistance to apple scab, which is one of the most common diseases of apples.
"With the continued scrutiny of chemical use in orchards we believe that 'Triumph' could be a useful tool to reduce the amount of chemicals used in apple production," Bedford noted.
While disease resistance is important, Bedford added the culinary characteristics that are favoured by consumers are equally important in the success of a new variety.
"'Triumph' fruit has a very appealing sweet-tart balance of flavour that has been shown to be well-liked by consumers," said Bedford. "Combined with a firm but crisp texture, good storage life and an attractive red overcolour, this variety should be a welcome addition to the apple market."
The variety's parentage is from 'Honeycrisp' and 'Liberty', with harvest occurring at a similar time to 'Honeycrisp', or up to one week later. Besides the variety's tolerance to scab, it has low to moderate susceptibility to cedar apple rust and may be especially well-suited to direct market and organic producers.
'Triumph' has been released as an open variety – tree royalty only – and growers may purchase trees directly from nurseries licensed by the University of Minnesota.