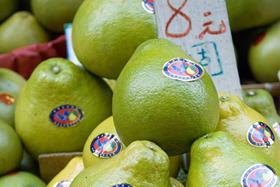 As part of phase one of the US-China trade deal, US authorities have approved the import of five types of fresh citrus fruit from China.
The US Department of Agriculture's Animal and Plant Health Inspection Service (APHIS) determined pomelo, Nanfeng honey mandarin, ponkan, sweet orange, and Satsuma mandarin can be safely imported into the US under a systems approach.
A systems approach is a approach is a series of measures taken by growers, packers, and shippers that, in combination, aim to minimise pest risks prior to importation.
Under this approach, only commercial consignments of the fruits can be imported, places of production and packhouses must be registered and the fruit must be certified to be free of pests.
Additionally, trapping programmes for fruit flies, periodic inspections of places of production, grove sanitation, and postharvest disinfection and treatment must all be implemented.
Despite the decision, a number of US citrus groups expressed their concern with the possibility of Chinese citrus entering the US, submitting comments during the authorisation process.
James Cranney, president of the California Citrus Quality Council, said the council had reservations about phytosanitary risks and competition.
"The importation of fresh citrus from China has the potential to seriously disrupt the California citrus production through the introduction of pests and diseases, and market supply," Cranney said.
Trade association California Citrus Mutual (CCM) was also worried about the risk of pests.
"As an overarching comment, we are confused by the events that have taken place with respect to the request from China. In 2014, the APHIS proposed to allow China to export several citrus fruits to the US if all fruit was placed in paper bags on the trees before harvest. China objected to this protocol and as a result, the 2014 proposal was not finalised," the association said.
"However, despite the significantly longer and more serious list of pests, APHIS is now proposing a systems approach that is less stringent than the systems approach proposed in 2014."