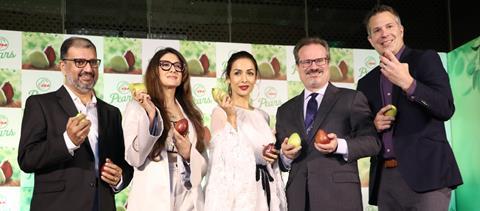 Pear bureau northwest has announced Indian actor Malaika Arora as its new brand ambassador for US pears in India.
Arora will advocate pear consumption this season using the hashtag #ThePearCare. The engagement strategy focuses on educating consumers of the health benefits of pears, as well as trying to dispel the myth that pears are not an everyday fruit.
International marketing director of pear bureau northwest, Jeff Correa, spoke of India's emergence as one of the fastest growing markets for US pears.
"India is currently amongst the top ten markets globally," explained Correa.
"It's a very important market and our growers work hard to ensure a healthly and nutritious fruit is exported to consumers there."
Arora spoke of her interest in championing the fruit: "I am excited to kickstart the awareness programme since pears is a regular part of my fitness regime," said Arora.
In-Country marketing representative for the bureau, Sumit Saran, said exporting US pears to India made a lot of sense, "US pear season perfectly complements the Indian pear season, which ends in September. US pears arrive in the market from October giving Indian consumers more choice," said Saran.
"The Indian market is expected to grow exponentially in the coming years as more consumers are picking this fruit and availability has started to penetrate into Tier II cities as well."
Two varieties of Anjou pears, both red and green, will be exported to India this season.
Earlier in the week, world pear day was celebrated with promotional activities in 24 countries for 24 hours. In India, a special promotion with Spencer's Hypermarket was organised alongside a food blogger lunch at Indian Accent, which showcased different ways to add pears to unique Indian cuisine.