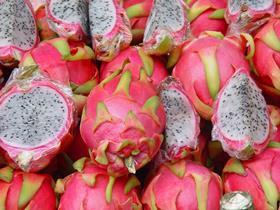 Reduced tariff and non-tariff barriers between India and Vietnam are the key to boosting the fruit trade between the countries, according to speakers at the India-Vietnam Business Forum 2020.
According to a report from Nhan Dan Online, as part of the event the Vietnamese Embassy in India and the Indian Importers Chambers of Commerce and Industry held a session called 'Fruits and food: New trade opportunities for Vietnam and India', which was attended by more than 100 importers, exporters and trade associations from the two countries.
Pham Sanh Chau, Vietnamese ambassador to India, spoke at the session and urged India to provide greater access to Vietnamese fruit including Dragon fruit longan, grapefruit, durian, and rambutan.
Pham said the removal of tariff and non-tariff barriers, such as simplifying administrative procedures, would benefit both countries.
Shubhra, trade adviser of the Ministry of Agriculture and Farmers' Welfare, said there were also opportunities for India in Vietnam's imported fruit market.
'India is fully capable of providing many types of fruits and agricultural products that Vietnam is importing from across the world, such as pomegranates, grapes, wheat, and cotton," Shubhra said.
Enjoyed this free article from Asiafruit Magazine and its team of editors? Don't miss out on even more in-depth analysis, plus all the latest news from the fresh produce business. Subscribe now toAsiafruit Magazine.