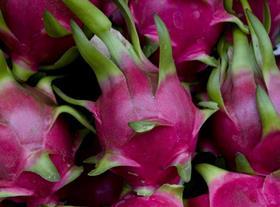 Vietnam's horticulture industry is increasingly embracing the latest technology to improve production and connect with consumers.
According to a report from the Vietnam News Agency (VNA), a range of technologies are helping prompt the start of a digital transformation for the country's fruit growers.
Le Van Chin, director of Que My Thanh Dragon Fruit Cooperative, said he turned to social media websites including Facebook and Zalo during the Covid-19 pandemic to sell directly to consumers using livestreaming.
"I livestream various stages such as farming, harvesting and packaging to createconsumerconfidence about my product," Le said.
"Farmers are willing to embrace digital transformation andswitch to natural farming as long as stable sales are ensured. I will continue to do livestreaming so that everyone can understand how dragon fruit is being grown without chemicals."
Chin is also involved in a Food Network Joint-Stock Company project called Food Connect, an initiative that connects growers with consumers through technology platforms.Growers are also taught about e-commerce and transparent production processes.
"Despite their somewhatugly appearanceand shape, the fruit ispopular with local consumers because of the quality. Also, the first batch of dragon fruitwasexported to Dubai," Chin said."Consumers can scan the QR code on the product to know the exact origin."
Nguyen Khac Minh Tri, chief executive of Mimosa Technology, said new applications in agriculture such as IoT (Internet of Things), blockchain and artificial intelligence would open new doors for the country's horticulture industry.

However, Nguyen said the integration of this technology was slow with many projects only in pilot or trial phases. Still, there were some early adopters already implementing traceability solutions such as Que My Thanh Dragon Fruit Cooperative.
Tu Minh Thien, rector atVan Hien University in Ho Chi Minh City, said the use of technology hadcontributed to nearly 35 per cent of the growth value of agriculture in Vietnam inthe last fiveyears.
Advances in irrigation such as drip, sprinkler and underground systems were making watering more accessible and efficient, providing growers with a significant boost.
Nguyen Quoc Toan, director of the Agro Processing and Market Development Authority, said that digital transformation would ensure transparency in the market.
Meanwhile, the addition of improved seeds and fertilisers and equipment had all combined to deliver lower production costs, less waste and water consumption and better quality fruits.
"Farmers must be the key players to ensure the success of digital transformation in agriculture," said Nguyen Quoc Toan.