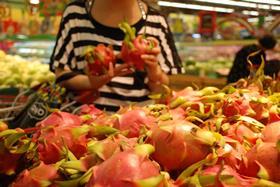 The value of Vietnam's fruit and vegetable exports reached US$3.2bn in 2020 with the Covid-19 pandemic contributing to the value of fruit exports declining 13 per cent a year-on-year.
According to a report from the USDA, fruit accounts for 80 per cent of Vietnam's fruit and vegetable exports and the pandemic, and drought and salinity issues in the major production region of the Mekong Delta, affected the country's fruit trade.
Citing data from Vietnam Customs, the report said a decline in fruit exports to China was responsible for much of the change from 2019. China accounts for 57 per cent of Vietnam's fruit exports and in 2020, the value of shipments to China dropped by 25 per cent year-on-year.
Trade between the two countries was particularly strained in early 2020 with the onset of the pandemic and China's subsequent border lockdown. This created logistics problems for fruit exporters who could not afford delays with perishable produce.
As the pandemic began to impact other markets such as the US and Europe, and sea and air shipping rates rose, the margins of fruit exporters contracted with some reporting reductions of at least 20 per cent.
Growers in the Mekong Delta also had to face environmental challenges, according to Vietnam's Ministry of Agriculture and Rural Development, drought and salinity intrusion affected 25,000ha of fruit crops in the region in 2020.
There is some optimism heading into 2021 according to the report. Although the pandemic lingers Vietnam has made efforts to diversify its markets in the past two years gaining access for mango to the United States and Chile, longan to Australia and litchi to Japan. The industry also considers the Europe-Vietnam free trade agreement (EVFTA), which took effect in August 2020, another opportunity.