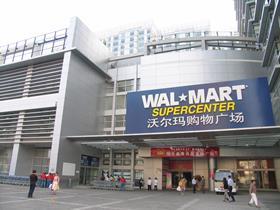 Walmart has announced plans to open 500 new stores in China in the next five to seven years, doubling its store count.
According to a CNN report, groceries and online shopping are the key drivers of this expansion. The company also revealed it will remodel over 200 of its Chinese stores, with features such as self-service cash registers, and facial recognition payment set to be added.
The new stores are expected to include a mix of regular stores, supercentres, and depots for online shoppers.
James Ku, a senior vice president with Walmart China, told CNN the company plans to service its customers through multiple outlets.
"Walmart is leveraging multi-format strategies to bring customers freshness, value and convenience,' said Ku.
'We will continue to collaborate with partners and policymakers in China to accelerate our expansion."
In addition to the 433 stores it currently has in China, Walmart's 'multi-format' approach includes a stake in Chinese e-retailer JD.com.
In 2016 Walmart sold its Chinese online grocery division, Yihaodian, to JD.com in exchange for shares. JD.com now hosts Walmart's products on its online platform.