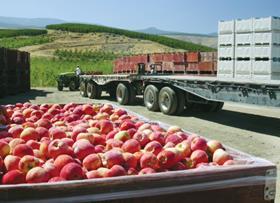 The Washington Apple Commission has predicated the state's current apple crop could be reduced by between 5 and 10 per cent following a number of severe weather events.
In early August the commission had forecast a crop volume of 134m cartons (40 lb), on par with the 133m cartons of the previous season. The revised estimate now sits between 121m and 127m boxes.
Growers have had to contend a combination of weather events, on the weekend of 5 September a strong windstorm resulted in apples being knocked off the tree and some growers sustaining damage to their trellis systems.
This the wind event also fuelled wildfires burning in Washington and other West Coast states and produced intense smoky conditions, delaying harvest a few days as some areas had to halt operations.
Washington apple growers and orchard crews have already been at work, they started picking Galas in late August and have since moved on to Honeycrisp. Red Delicious, Fuji and Cosmic Crisp will be harvested in October and the season will wrap up with Granny Smith and Cripps Pink in November.